24.09.2015
If you like to spend time in front of the TV screen, the following information is just for you! Many people think that having bought TV it is enough to adjust brightness and picture contrast, they do not pay  attention to the most important – the correct TV placement in the room.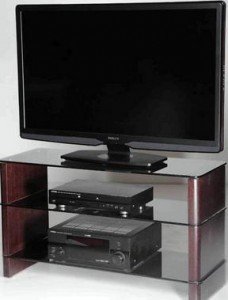 The first and most important – it is necessary to determine the distance of the viewer to the TV screen. It is influenced by the next moments: pixels size, TV diagonal and TV viewer visual acuity. The rule sounds so: " The larger the screen is, which means larger pixels, the viewer should be placed further". The best distance for the viewer is 3-4 diagonals of the TV screen. For example, if the screen of the TV is 20 inches, it is necessary to watch it from distance about 60-80 inches (1.5-2 meters).
The TV needs to be put so that the viewer sat approximately opposite to the central point of the screen (shift on 15-20, at most – 30 degrees is allowed).
The height of the TV arrangement will be comfortable if it is about 1 meter from a floor. But here nevertheless the rule continues to work – the center of the screen must be opposite to the viewer's eyes. And it means that it is necessary to consider the height of sofas and chairs.
In the room for TV viewing there shouldn't be a lot of street light. At the same time it isn't recommended to watch TV in full darkness too as it can do harm to the viewer's eyes. Therefore a dim light in the room is the best option. It is important to pay attention that around the TV it must be at least 10 cm of free space – it is necessary for its ventilation. It is impossible to put near the TV heating devices and sources of electromagnetic radiation, they are capable to create interfere on the screen.