04.11.2015
We make custom audio and video installation of surround sound systems, installation of flat panel TVs, home cinemas, media rooms. The room or the house can be arranged with a large number of various media techniques, but their correct installation and configuration will help you create the image and sound of your dreams!
The complexity of the audio and video systems installation is that standard solutions do not exist – because the best picture and sound you will get when the selection of the configuration will take into account all the features of the room in which the system is located and preferences of the future owner. Audio and video systems installation is the creative process, which requires an individual approach and professional knowledge and skills.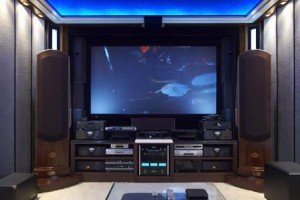 Professional design, developed for the audio and video systems installation allows to make a precise calculation of cable products, sound insulation features and technical characteristics of the necessary equipment suitable for this rooms. Audio and video system, the installation of which was made by the professional company will give you incomparably more pleasure from the using it.
When doing your order our experts will take into account the different characteristics, for example, whether  necessary wires for audio and video systems installation are brought. Accordingly, if the eyeliner is, it will significantly reduce expenses and make the installation less time consuming. Often customers want to spend the acoustic system through the ceiling into the kitchen, to bring dynamics to the internal court yard, to receive surround sound, to connect many outlets in different rooms to one receiver. If the repair work isn't begun yet, it will be simpler to our experts to take into account the characteristics and needs of the client. If the repair is completed, we will help you to realize desired dream without big budgets. All work will be done in close cooperation with the architector, interior designer.
We specialize on the installation of various audio and video systems, we offer the best brands of high-quality home cinema. Our goal is to provide the best quality service to every customer in the future too!