04.11.2015
Door entry system is a mechanism which is intended primarily to protect you from uninvited guests. Only by knowing who is at your door, you will be able to decide to open it or not.
As any other security systems, door entry system can be different in terms of functionality, structure and complexity of the design. How to choose the right "composition" of this security system? To answer this question it is necessary to determine for what do you need the door entry system, how its installation and connection will be carried out.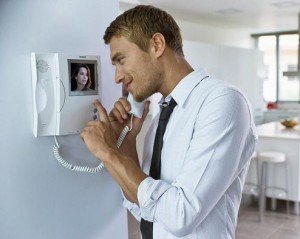 If it must be installed the door entry system for a separate apartment for two-way audio communication, you can get low-cost equipment. If you need additional features such as remote door opening, in such a case more functional equipment is needed and video door entry system is advisable.
With regard to the door entry system installation for all apartments entrance block of flats, then, of course, it is a time-consuming process compared to individual installations. Devices of this type usually have a common outdoor unit. It can be selected the desired apartment by clicking a few buttons. For it there is the special switching device of door entry system. The electronic device of this type provides the ability to remotely control electric lock of the front door entrance. In this case, installation of video door entry system for the large number of subscribers, provides additional wiring to ensure a reliable remote control.
Our experts will help you in matters of design, installation, maintenance and repair of door entry system, video door phones, access control systems and door units. With extensive experience in the installation and video entry, installation of electronic security systems, our engineers will assist in the implementation of video surveillance and access control systems of any complexity.
Having a wide experience of door entry system installation, engineers of our company will help you with door entry system of any complexity degree.