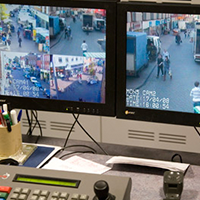 12.11.2015 CCTV news 0
Nowadays, it is very often that customers for business CCTV installation are such enterprises and companies in which, seemingly, a life without CCTV cameras was previously impossible. In this article we give examples of the CCTV use in different areas of business.
So, the leader in the CCTV installation are restaurants, bars, pubs … To monitor the behavior of customers is a security measure that helps to stop the anti-social behavior of drunk people and so on… In addition, the issue of bills non-payment often becomes a real problem.
Storage and goods which are stored there can "evaporate" very easy if there are not installed cameras in these premises. The same situation can be observed on farms with livestock, stables, factories with expensive equipment.
Recently, deals with representatives of schools, colleges or other educational institutions increased. Visitors monitoring helps deter "uninvited" guests, find criminals. In addition, the cameras help to prevent mocking among students, to protect the staff.
Shops, supermarkets – these are the places where the thefts are very common. Security guards (without cameras) can not keep track of a huge number of buyers. Criminals, knowing that the store has no cameras, often use it, especially in rush hours.
Video monitoring of parking lots is also an effective and reasonable solution.
CCTV works round the clock, that allows customers to monitor the object constantly, to view recorded video remotely on phone, tablet or computer. Conveniently, is not it?! And the most important – it is safe!